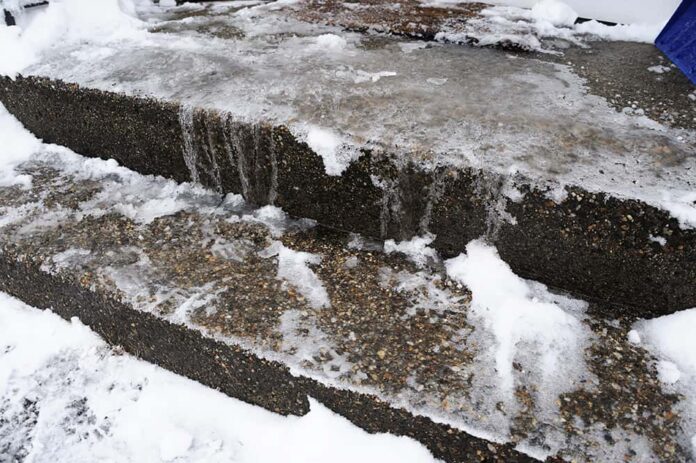 Slips, trips and falls account for a third of all non-fatal accidents at work and are the single biggest cause of injuries in the home. 80% of hospital admissions for accidents among the over 65s are due to falls, with 6,000 proving fatal2. Any actions you can take to prevent or reduce the risk of falls will not only save pain and suffering but will also save the NHS money. And will reduce the amount of time employees take off work to recover – saving you money too.
What are the options?
There are many ways to upgrade or update your staircase or walkway in order to prevent slips, trips and falls – from completely replacing or resurfacing the steps to adding slip-resistant tape or floor paint. Replacing stair treads is the most expensive option; paints and tapes are the cheapest but not necessarily the most cost effective – they'll need reapplying regularly to ensure they keep people safe. An alternative solution is to consider some of the GRP options on the market. They are quick and easy to install and last for years – if not decades.
A long-lasting solution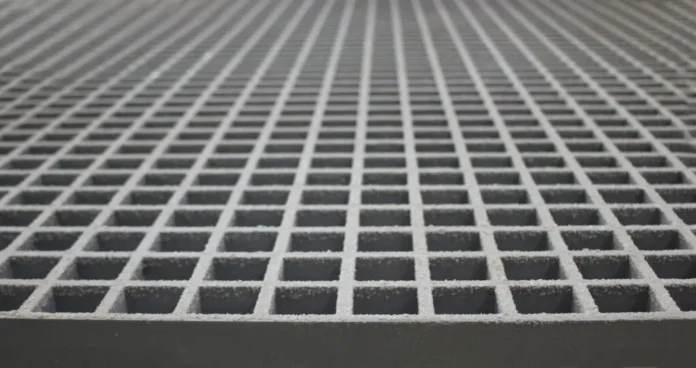 GRP (Glass Reinforced Plastic) also known as FRP (Fibre Reinforced Plastic) or fibreglass, is a blend of recycled glass, recycled plastic and a waterproof resin which bonds it all together. After that it can be moulded or pultruded into the required shape. An extra layer of embedded quartz grit is then added to the top to create a slip-resistant surface that remains effective even in wet or icy conditions. There are many benefits to using GRP over the other materials: it is very easy to install, it is long lasting, it doesn't rust, it's chemical resistant, it's low maintenance and much, much more. And it can be applied to steps and stairs made from anything – timber, brick, stone, steel or concrete.
Anti-slip Decking Strips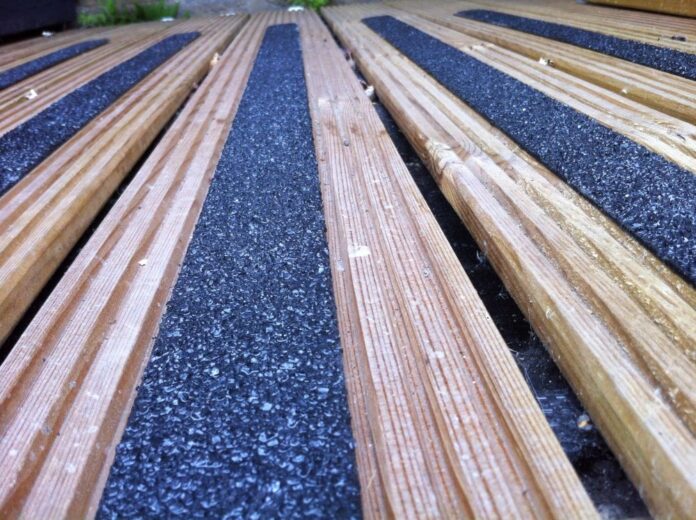 Of the GRP options, the most economical is Decking Strips. These are the least expensive option and are ideal for steps with bullnose edging. They are very lightweight and can simply be glued and screwed to any walkway or step for that added traction underfoot. With these you can have a neat and discreet finish.
Anti-Slip Stair Nosing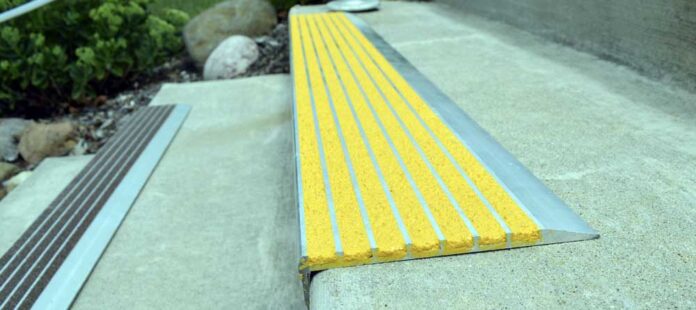 The next level up from Decking Strips is Stair Nosing (or Edging). These are quick and easy to install and require minimal drilling. Ideal for use if you want to cover worn or crumbling step edges, and since these can be seen when going up and down, they can help meet the Equalities Act 2010.
Anti-Slip Tread Covers

The ultimate solution and the most expensive one is Tread Covers. Tread Covers cover the entire step and incorporate nosing into, making it the ideal choice for completely covering worn or crumbling steps, and again help to meet the Equalities Act 2010 as it helps make the steps visible when going up and down.
A complete solution
All these options are available in different lengths and colours so you can make them as discreet or as visible as you want. Highlighting a hazard is a great way to prevent accidents but, if you're looking for something to improve your garden steps or front door step, hi-vis yellow may not be the aesthetic you are looking for.
It is important to not overlook other factors when improving step safety. Making sure the area is well lit so that pedestrians can see where they are stepping will massively help reduce slips, trips and falls. Having handrail either side of a walkway or a staircase will provide pedestrians with extra grip if they should stumble and you should make sure the area is clear of dirt and debris with any potential slip or trip hazards removed.
There will always be accidents on steps – people not paying attention or rushing are putting themselves at risk. But if you've taken every precaution you can to keep them safe then you've gone a long way to keeping incidents to a minimum.