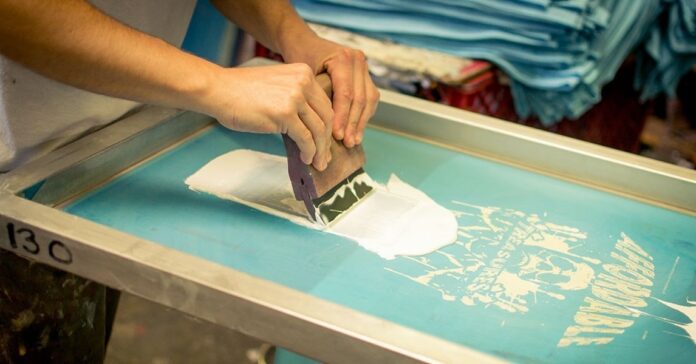 Thinking of starting a new business? Here is a great idea for you. Screen printing is one of the most demanding industries right now. You can try your hand in this industry.
Many Americans dream of having their own business. Here is your chance to start one. Screen printers are in great demand, and you can earn great money with this money. However, you must first know all about it. What it is, how you can set up the business, all material you will require, screen printing supply agencies in the market, etc. this article will help you learn all these things.
Nowadays, cloth printing has come into fashion. One of the reasons can be the increased focus on sustainability and the protection of the environment. The fact that screen printing creates vibrant colours even on darker textiles is also a factor contributing to its widespread adoption.  Go through the article to know all how you can get into this business.
What Is Screen Printing?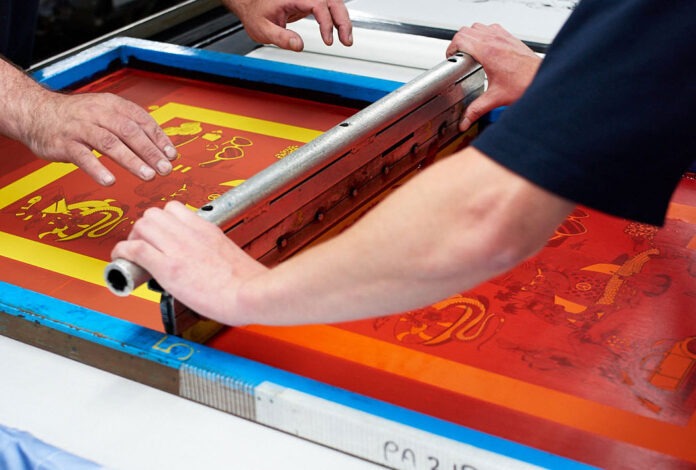 An image that has been stencilled is transferred to a surface using a screen,  In the screen printing process. It makes use of ink, a mesh screen, and a squeegee. The media used most frequently for screen printing are paper and cloth. However, printing on metal, plastic, wood, and glass using their specialised type of ink is also possible.
Based on the materials used, there may be differences in how the stencil is made. Various methods of stenciling iare:
Vinyl and masking tape can be used to cover the portions that are not to be printed.
Apply the stencil to the mesh using screen-blocking substances like glue or lacquer.
A light-sensitive emulsion is created, and then it is processed like a photograph.
Tips For Starting A Screen Printing Business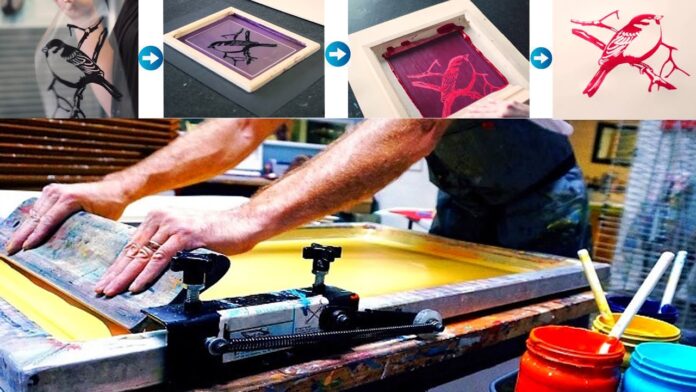 Here are a few tips that you must follow when you start this business.
Knowing And Owning All The Necessary Equipment
Firstly, you should know the equipment that is needed for screen printing. You should be ready with all the required machines and gadgets.
Press
The most important equipment you will need is a press. The majority of printers prefer using a press since it enables printing many products more economically. Presses come in three varieties: semi-automatic, automatic, and manual. Manual presses need a lot of manual labor because they are handled by hand. Automatic presses demand little to no labor input, whilst semi-automatic presses are partly automated and still need human labor to switch over the objects getting pressed.
Inks
Another important thing you will need is ink. There are several specialized inks available that can be utilized to produce various effects on the final product. For example, printers utilize puff inks, sparkly inks, or texturized inks to produce a distinctive look or feel. The kind of fabric that is getting screen printed should also be taken into consideration by the printer because different inks respond differently to various materials.
Silk Screens
Next in line is the silk screen. A thin mesh fabric is stretched over a wooden or metal frame to create the silk screen used in silk screen printing. You can choose the mesh's width and thread count accordingly to match the texture of the material used for printing.
A Squeegee
You will also need a squeegee in the process. The ink is forced through the mesh screen to the surface that is printed using a squeegee. Generally, you should choose a squeegee roughly the same size as the screen's frame because it will provide better coverage.
Wash Station
Lastly, you'll need a washing station. Use huge tubs of specialized cleaning solution or acid to clean the emulsion from larger printworks; otherwise, just use a sink or a water trough as well as a power hose to wash the screens.
Creating Your Brand
Creating a brand always has a greater impact. It will improve customer reliability and trust. There are already many existing screen printers. You need to stand out from them and show your own unique style. For proper branding, create a catchy logo and tagline. Brand loyalty always works for the betterment of a startup. If you are thinking of starting this business, start it with proper planning and professionalism.
Knowing Your Customers

Knowing your customers and targeted audience is another important component of a successful business. All of your sales and marketing strategies will be considerably easier to accomplish if you identify the primary clients you want to seek. For that, you need to answer the basic question like,
Who are the potential buyers?
What problems do they face?
How would they prefer to purchase your product?
How often would they buy your product?
What are the custom requirements of the customers
What solution can you provide to their problems
Marketing Your Business
Marketing is the core of any business. No business can work without proper marketing and advertising. If you are getting started with the printing business, you need to market it to people. There are a few things that you must remember.
Everyone you know has the potential to become your customer. Never underestimate them.
You should reach out to as many people as you can to grow your business.
You must find out who else is offering a comparable product ad your potential competition.
You must provide good quality services with your product to increase its value and customer trust.
Screen printing has many buyers; therefore, don't worry about your new business.
These are a few tips that can help you grow your new startup in the screen printing industry.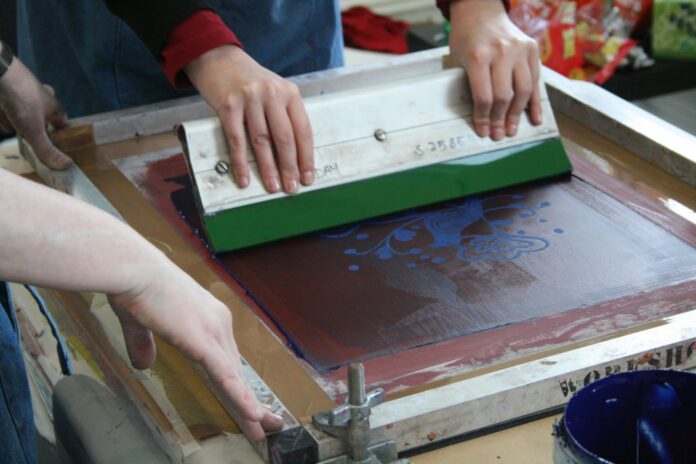 Conclusion
Starting a new business isn't easy, whether it be in any industry. You need to know all about it. This article has briefly stated all the basic requirements for starting a screen printing business. Screen printers are in great demand these days due to the increased interest of people in fabric printing. Make sure you follow the above tips to conduct your business better.
A press, different inks, a silk screen, a squeegee, and a washing station are the basic equipment that is needed. Further, you would definitely need a sufficient work palace and other assets.