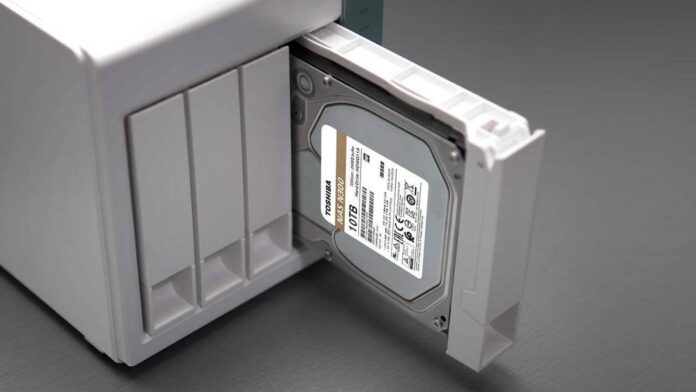 Do you have a NAS server or would you like to purchase one and the appropriate hard drives are missing? In this article we show you what to look for when buying hard drives. You can also use our hard disk configurator to easily search for hard disks that meet your requirements.
Basics
You can usually buy a NAS choose whether you want to purchase a device without or in a bundle with hard drives. Often there are even different bundles with a selection of hard drives with different storage capacities.
A NAS Server Without a Hard Drive is Cheaper and More Flexible
One or more drives can be installed. Last but not least, the user can determine which hard drive he wants to use.
Another reason, in addition to the flexible design options, is of course the price. It is often much cheaper to buy a hard disk separately, to use an existing disk or to gradually increase the storage volume.
Hard Drive Format – 3.5 or 2.5 inches
NAS hard drives are mainly offered in 3.5-inch format, which is also typical for the desktop PC. Only a few, very small NAS systems for home applications are designed for hard drives in notebook format 2.5 inches. They are quieter and use less power, but they cost more than 3.5-inch hard drives in relation to storage space.
Operating Times – Stress Test for the Hard Drives
Like a cloud storage device, a NAS is supposed to keep data readily available. It therefore usually runs around the clock and at most puts itself into a state of rest if no one queries data. Desktop hard drives for PC applications are usually overwhelmed with such permanent loads, as are normal 2.5-inch hard drives for use in notebooks.
When choosing hard drives for your NAS, you should always make sure that they are designed for 24-hour operation. However, this criterion is not yet sufficient. For example, the Seagate Archive HDD v2 is suitable for continuous operation, but is not recommended by the manufacturer for use in the NAS.
Special Hard Drive Series for the NAS
Suitable hard drives for NAS applications are produced by the manufacturers Seagate, Toshiba and Western Digital (WD) , the latter also under the brand name HGST. Behind it is the former hard disk business from IBM and Hitachi.
Seagate and HGST hard drives for NAS systems can be recognized by the suffix NAS. WD uses a color code to identify the areas of application for hard drives sold under its own name. NAS hard drives are assigned the color red and are called WD Red.
Data Throughput with NAS Hard Drives
Contrary to the intuitive assumption, the write and read speed of the hard drives in the NAS is usually not a decisive factor. The bottleneck is usually the network connection, unless you already operate your NAS in a 10 GBit network and call up the corresponding data throughput. For this reason, you will find mostly classic hard drives with rotating magnetic disks and no SSDs in the NAS.
SSDs in the NAS can hardly take advantage of the higher access speed. They consume less power and are quieter, but in terms of reliability, especially when it comes to long-term data storage, they do not match conventional hard drives. If you value the highest level of data security on your NAS, use magnetic NAS hard disks, replace them shortly before the warranty period expires and use the removed disks for long-term backups.
What Speed for Hard Drives in the NAS
In terms of rotation speed, the situation with NAS hard drives is similar to that with SSDs . Disks with 7200 and more revolutions per minute allow higher data throughputs, but the slower hard disks with 5400 revolutions per minute usually already reach data rates of 150 MB / s or more and are therefore not used in most NAS systems.
One of the advantages of slower hard drives is that they are typically quieter and quieter, use less power and therefore also emit less heat. In specific cases, however, things may look very different. The speed of rotation can therefore be no more than a guide when selecting a hard drive.
Hard Disk Size and Number of Hard Disks
In general, the size of NAS hard drives should fit your current space requirements and take into account the development of the near future. It makes little sense to plan for ten years in advance, you only tie up capital and increase operating costs.
The maximum period of capacity planning for your NAS should be the warranty period of the hard drives. Even with the highest quality NAS disks, the probability of errors increases with the operating time. It is therefore often advisable to replace the plates before the guarantee expires and to adjust the capacity to the current requirements.
In addition, NAS systems generally have two to eight hard drive bays, enterprise systems even up to 16, so that you can usually eliminate acute bottlenecks by installing an additional disk. With the new setup, however, it makes more sense to install only a few large plates instead of many small ones. The same capacity usually costs less with large disks, they consume less power and generate less vibration than several smaller hard disks.
Data Blocks and Block Sizes
In order to keep the administrative effort within the file systems within limits, data on hard disks are not stored bit by bit, but rather are combined into blocks of typically 512 KB. This means that memory remains unused for smaller files, but access can be made much faster and larger memory areas can be addressed.
With the increasing average size of hard disks and files, new demands are placed on block sizes. Current file system implementations sometimes use 4 KB blocks and there are already hard disks that support this block size in terms of hardware.
Seagate SkyHawk Hard Drives for Surveillance Cameras
Almost all well-known NAS manufacturers now offer a good solution to save the recordings of surveillance cameras on their own server. Thanks to sophisticated software, this works amazingly well and you also have worldwide access to your surveillance cameras. However, very few users know that the constant recording puts an enormous load on the hard drives.
HGST Deskstar NAS Hard Drives
The much more well-known company Hitachi is hidden behind the rather unknown and bumpy abbreviation HGST. The American company has been successfully producing hard drives for over a decade and has worked its way into the top 3 global storage manufacturers. We'll look at the hard drives in this post.
Seagate BarraCuda Series
Know-how and almost 40 years of experience in the production of mass storage come not from Silicon Valley but from idyllic Ireland. Seagate can look back on a long career and is launching a real bestseller with the BarraCuda series. We take a closer look at these here.
WD Blue Disk Series
The reliable HDDs from the Western Digital WD Blue series are the ideal addition to SSD hard drives when large amounts of data have to be stored on PCs. While SSD hard drives are responsible for fast execution of the programs, the WD Blue HDDs are used to store large amounts of data, such as those created with 4K videos or high-resolution images.
WD Red Hard Drive Series
With the WD Red internal NAS hard drives, Western Digital offers a family of hard drives specially designed for use in NAS systems with up to 8 drive bays. WD Red hard drives are a cost-effective solution for NAS systems that must function reliably in 24/7 continuous operation.
IronWolf – Seagate NAS hard drives
For many years now, excellent mass storage devices for home use and smaller companies have come from the land of green pastures, goblins and fairies, not from Silicon Valley. Although Seagate ranks second in the list of sales figures among the global market leaders, the group has had very difficult times.
WD Red Pro Series
With increased workloads in medium to large NAS and RAID environments with up to 16 drive bays, the WD Red Pro drives ensure fast and reliable data synchronization and data backup. In this article, we'll take a look at the drives.
Western Digital Green Hard Drives Series
The 3 TB WD30EZRX hard drive from the Green series from Western Digital was developed for energy-efficient and quiet operation. Through a combination of high data density and reduced speed, the operating noise and heat development could be significantly reduced.
Seagate IronWolf – 2TB Plate
With the IronWolf 2 TB hard drive, Seagate offers fast, internal mass storage for private households, home / small offices and NAS in small businesses. With AgileArray technology for optimal reliability and a high transfer rate, the IronWolf 2 TB hard drive ensures fast data exchange.
Western Digital Black – Hard Drives in a Black Robe
The California hard drive manufacturer Western Digital is entering the high-performance sector with its Black series and fulfills the demands of professional users and ambitious gamers. The capacity ranges from one to six terabytes, the guarantee is an exceptional five years. But let's take a closer look at the black giants.