Throughout the years, MelodySusie's commitment to technological innovation in nail tools and the pursuit of top-tier quality has remained unwavering. Our primary objective has always been to provide users with an unparalleled nail experience.
Guided by this goal, we consistently explore the ever-evolving market demands to cater to the unique needs of each individual.
With immense pride, we are thrilled to introduce our newest offerings for this summer—Stepless Speed Nail Drill, Rechargeable Mini 2 in 1 Nail Art Lamp, and PC1-Nail Drill Pen for Nail Care, all poised to deliver an extraordinary experience.
What Sets SP1 Nail Drill Apart?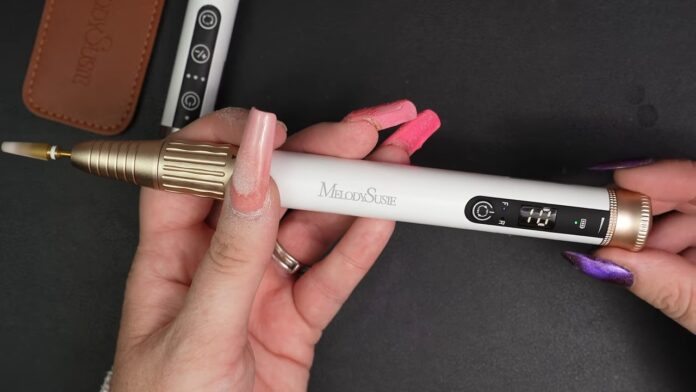 Adjustable High-Speed Performance
With the SP1 Nail Drill, you are empowered to choose and fine-tune your preferred speed, ranging anywhere from 0 to 30,000 RPM.
Whether you opt for 2,000, 10,000, or the full 30,000 RPM range, the SP1 provides the freedom to embrace flexibility and comfort as you create stunning nail art.
Cordless Freedom through Rechargeability
Bid farewell to the inconvenience of tangled power cords that often hinder your workspace. The SP1 is designed to be both rechargeable and cordless, offering an organized and efficient manicure experience devoid of any cord-related restrictions.
Lightweight Design
Breaking away from the common trade-off between performance and portability, the SP1 strikes an ideal balance.
If you seek a nail drill that seamlessly merges performance with ease of transport, the SP1 is your ultimate choice. Its compact, lightweight form makes it effortlessly portable, minimizing hand fatigue even during prolonged use.
Using nail drills can help you achieve your desired look, but do they damage nails? Explore our article on this topic to learn more and discover information you might not have known before.
Elevating the Experience with Substantial Upgrades
Benefit from a heat-resistant coreless motor, coupled with an adjustable 0-30,000 RPM speed spectrum.
Our device stands out by generating minimal heat, reducing vibration, operating with minimal noise, and boasting an extended lifespan, thereby enhancing your overall nail care journey.
Why is the Mini Nail Art Lamp Essential?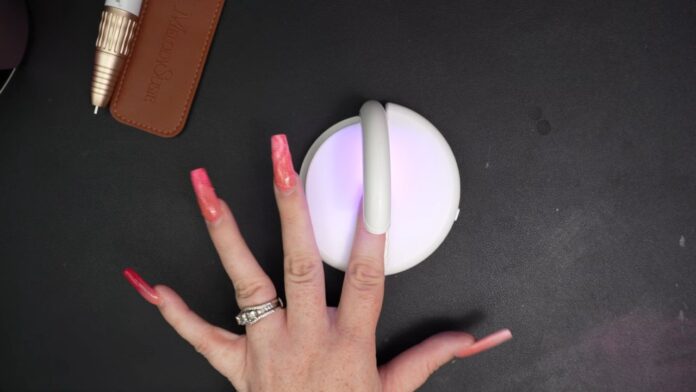 Rechargeable with Long-Lasting Battery Capacity
Cultivate your creativity limitlessly, supported by the enduring MelodySusie nail lamp. Offering up to 20 hours of battery life following a quick 1.5-hour charge, this nail art curing lamp remains ready to accompany your inspiration, be it by the beach or in the comfort of your home.
Streamlined and Portable Design
Crafted with compactness and lightweight convenience in mind, this lamp effortlessly slips into your pocket or backpack, ensuring you never miss a creative spark, regardless of your location.
Dual-mode LED/UV Light Functionality
Recognizing potential concerns related to UV lamps, particularly for newcomers to nail art, we've merged the benefits of LED and UV lights within our petite nail art lamp. This ensures exceptional curing performance while minimizing any potential impact on the user.
With mode switching and automatic timing functions, beginners can focus on their art without worrying about curing time. To meet diverse needs, we recommend using UV gloves for added protection.
Swift 60-Second Curing with Preset Timer
Experience the magic of our mini nail art lamp, complete with an advanced 60-second fast curing feature.
Bid farewell to the long waiting periods associated with traditional nail gel polish drying and curing, as this feature drastically expedites the process, ensuring your nails are ready in no time!
How Does the PC1 Nail Drill Pen Shine?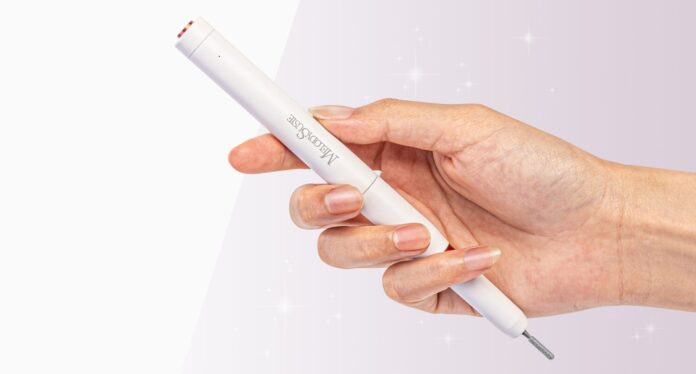 Pioneering Nail Drill Pen with a Focus on Care
Engineered exclusively for nail care, the PC1 Nail Drill Pen excels in attending to daily cuticle care, dead skin removal, tackling tough calluses, and refining nail surfaces. This specialized attention caters to a larger audience, catering to those seeking basic nail cleaning and care at home.
Lightweight and Portable Craftsmanship
The days of cumbersome equipment and hand fatigue are behind you. The PC1-Nail Drill Pen's design prioritizes lightweight and compact dimensions, ensuring effortless handling and storage.
Customizable Speed with Cordless Convenience
Tailor your nail care regimen with ease using the PC1-Nail Drill Pen's two adjustable speed settings.
Complementing its cordless design is a built-in rechargeable battery, requiring only an hour of charging to offer you the freedom to carry it wherever inspiration strikes. The hassle of tangled cords and the search for power outlets are a thing of the past.
Precision in Design for Comfortable Use
Elevate your nail care experience with the PC1-Nail Drill Pen's ergonomic design. Featuring a slender handpiece for enhanced control and a secure grip for steady handling, it ensures utmost comfort during each use.
Delivering Safety and Stability
Dissipating heat swiftly, the PC1-Nail Drill Pen mitigates overheating risks. Additionally, the pen's minimal vibration and consistent performance render it safe and accessible, even for those new to nail care.
MelodySusie, a frontrunner in the nail tool industry with 14 years of experience, remains dedicated to addressing the distinct needs of every user. As we continuously pioneer technological innovation and champion premium quality, we are excited to have you join us in this nail care revolution.
Stay tuned for an array of thrilling updates as we embark on this exhilarating nail care journey together!
Discover more of MelodySusie's 2023 new arrivals here.